Purpose of Snavi
Snavi (Site Navigator) is an innovative website launched to create a genuine meeting place for international companies considering corporate establishment in the U.S. and American communities who are ready to welcome them. Snavi's collection of unique services is aimed at supporting the entire process of U.S. site selection and international business development.
Contribution of International Corporations to Local Communities in the U.S.
The practice of companies expanding their operations to the U.S. has been taking place since America's very foundation. Companies in virtually every industry come from all over the world to establish American manufacturing bases. These companies can attest to how their American expansions drastically improved their global market share, as well as their overall standing in the international business community. Jointly, the developments have improved the quality of life for their surrounding communities by energizing employment and economic consumption. These mutually beneficial relationships succeed in supporting the needs of both global industries and U.S. communities.
Snavi's services to U.S. Communities
Many U.S. economic development agencies and industrial parks have created their own homepages to attract potential business to their areas. However, that information does not necessarily seem to reach companies outside the U.S. who are planning international expansion. There seem to be two possible reasons for this:
The difficulty of individually navigating literally thousands of similar sites
A lack of additional support aimed at overcoming the difficulties of an international venture
Snavi will solve these issues and assist in matching your community with potential international companies by offering these services:
Creating an Snavi Community page for your area and featuring it on our interactive site
Posting a link to your community's Homepage on our site
Offering other services specifically designed to invite international companies to your area.
For applications and/or inquiries, please contact us.
How will international companies find your information on Snavi?
Below are the instructions given to international companies who are visiting Snavi as to how to use this site to find your community information, as well as additional support provided by Snavi.
Step 1 Top Page and Area Overview Page
Please select the area (Northeast, South, Midwest, West) from the U.S. map on the Top Page.
You can see the overview of the area you selected and the states that belong to the area.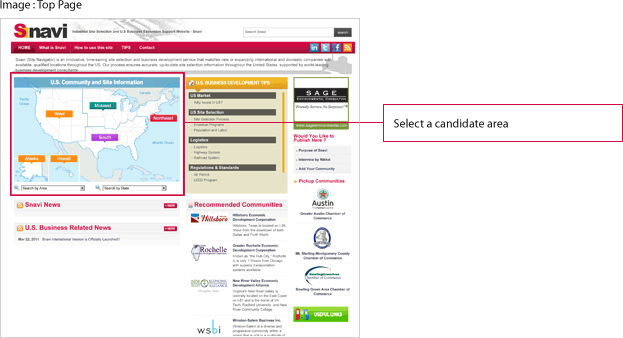 If you have already short-listed possible state(s), please select the applicable state(s) from the pull-down bar "Search States" on the upper left-hand of the Top Page.
Step 2 State Overview Page
Please select the state that you are interested in from the State List or the Area Map.
You can see the overview of the state and communities on the State Map and the list of the communities in each states.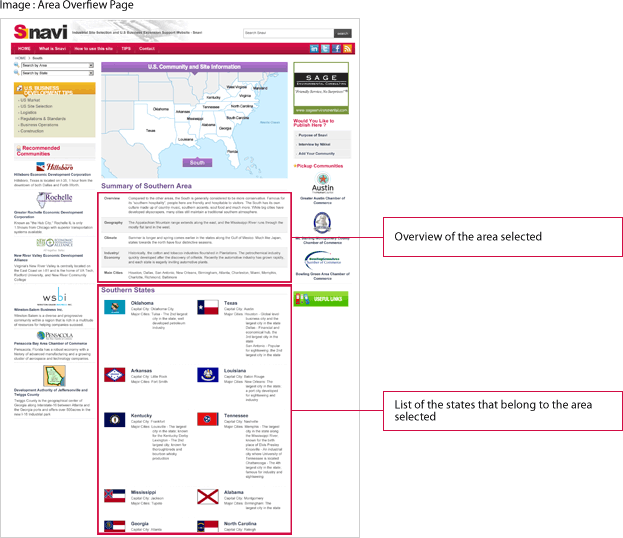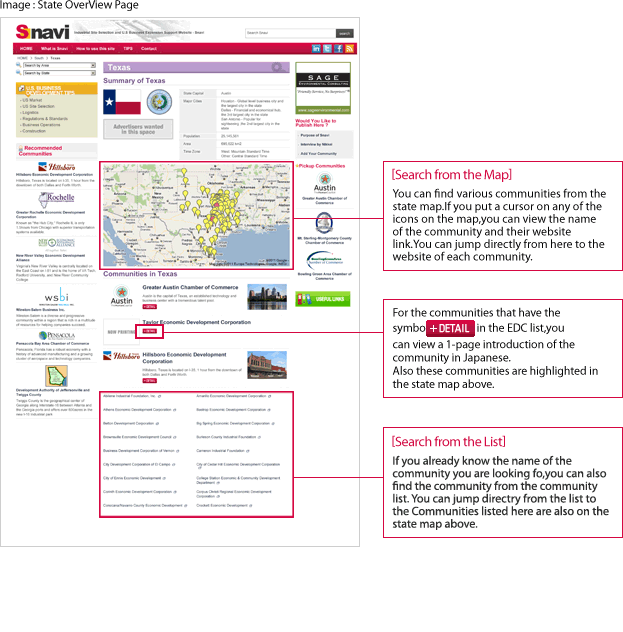 Step 3 Community Overview Page
The communities that have their Overview Pages appear as red and green icons on the map.
Also, you can find the links to their Community Overview Pages above the Community List.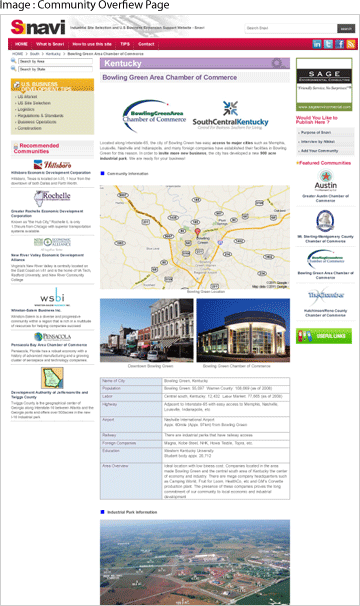 When you find a community (-ies) of interest and would like more detailed information, please contact Snavi, and we will provide further support to ensure smooth communication and information exchange between both parties.
Snavi also provides other practical services such as site selection support. Various types of work and investigation will be required as you select your site, including summarizing site criteria, sending inquiries, contacting possible communities, and touring your chosen site. We will work with you to provide extensive support in order to ensure a smooth site selection process.
Please do not hesitate to contact us with your needs.